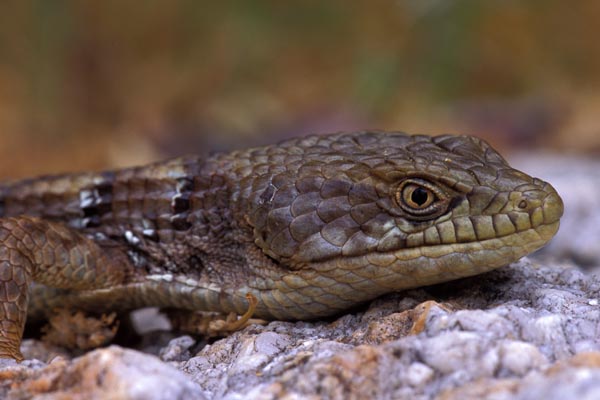 Sue Bemis is offering room and board for tenants of a cold-blooded nature
By KATHY GRAY of The Chronicle
Photo courtsey of wildherps.com

Sue Bemis
is on the hunt for some new friends — of the cold-blooded variety. This week, Bemis built a habitat for
alligator lizards
in her front yard in The Dalles.
Alligator lizards are a native species to this area, as well as
Southern California
, where Bemis enjoyed catching them as a child. She has spotted the likely reptiles in her neighbor's yard and in shrubbery around her own yard.
She hopes to encourage them to take up residency in the cozy home she's built in her front flower bed out of materials she found around her home, including broken pottery, plywood and insulating straw. She got the idea from "
Backyard Habitat
," a program on the
Animal Planet
cable network that shows how people have established habitat for native animals in inner-city settings.
"
If you can't have pets at home, maybe your family can get together and do this
," she said. Bemis owns
Sue's Dog Grooming
.
The habitat includes a cozy underground den for safety and for the raising of young, as well as water sources and plenty of places for lizardly sunbathing. "
Alligator lizards eat aphids and fruit flies
," Bemis said. She put a piece of banana inside the habitat. The flying insects fly in and can't get out, creating a ready snack bar for the hungry reptiles.
She invited visitors to come see the new little lizard world she's created and said she has been writing plans for making the habitats that she will be happy to pass around.